What Is A Dayhome?
A dayhome, also known as a home daycare, is similar to a conventional and traditional daycare, but has several differences that help it stand apart from its more popular counterpart. Much like a daycare, dayhomes are set locations where parents can drop off their children for a certain time throughout the day. There they play and interact with other children of the same age. There are times set aside throughout the day for snacks, meals, outside play, and even naps. These, however, are usually where the similarities between dayhomes and daycares tend to end, especially with the high-quality dayhome services at VonKids. Keep reading to learn more about dayhomes.

Education
Not only do kids have fun when they come to a VonKids home daycare, they also spend the day learning. Unlike traditional daycares, VonKids dayhomes have an educational curriculum that's made to help children learn. What's the best thing about the VonKids curriculum? Most of the time kids don't even know they're learning. VonKids uses games, activities, and other means of play to help kids learn without even knowing they are. When you choose VonKids for your dayhome services in Calgary, your children will be begin to develop: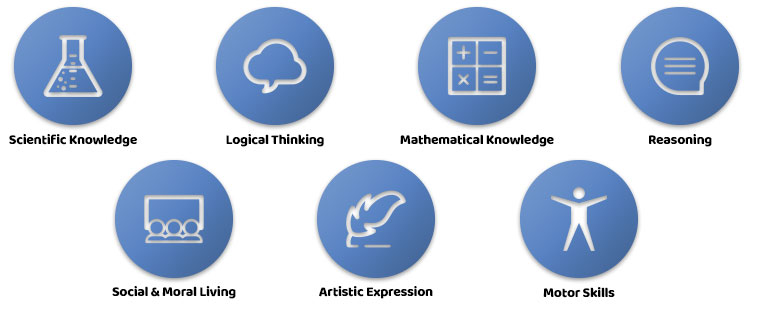 Your children will also be given elements of traditional education, such as reading, second language skills, math, physical education, and more! Learn more about VonKids' child development in Calgary.

Nutrition
Not only do kids get a great education at VonKids, but they also get excellent nutrition as well. Where daycares usually have a set menu for everyone in the group that usually consists of cheaply produced and nutrient lacking foods, VonKids dayhomes incorporate all-natural foods into every meal and snack. Each meal is home-cooked and can be catered around certain allergies should the need arise. Meals are changed everyday, so no one will get burnt out or tired of a certain meal that's served every day of every week in the year. VonKids offers quality nutrition for every child, and some of our nutritional features include: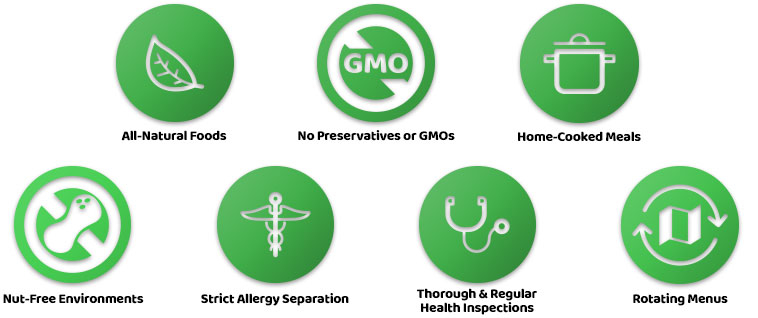 When you partner with VonKids, you know you'll be getting high-quality nutrition at all of our dayhomes around Calgary. Learn more about nutrition from VonKids dayhomes.

Security
While daycares are also secure, they don't always have the same features that a VonKids home daycare does. At VonKids, we go through an extremely thorough screening process of our potential child caregivers, their homes, and the surrounding areas. All of our dayhomes have a strict no-visitor policy and are never allowed to be disclosed by any means. Each VonKids facility is insured, while a fire escape plan and child-proofing measures are all put into place before any classes begin. For added security, there are no signs or identifiers that identify buildings as VonKids dayhomes. Our world-class dayhomes are backed by even better security, such as: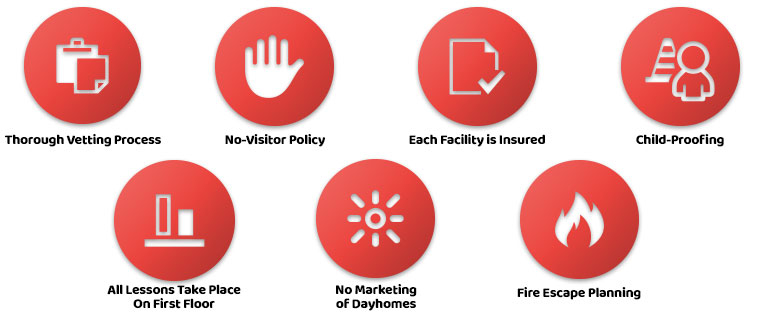 When you partner with VonKids, you're getting a highly educational child care experience with amazing security set in place from day one. Learn more about the security at VonKids home daycares.
Benefits Of A Dayhome
VonKids dayhomes have several benefits that set us apart from other dayhomes and daycares. Not only do you get amazing child care from each of our locations, but your child will learn and grow while helping other children to do the same. You'll be able to see them blossom into the best versions of themselves right before your very eyes. At any of the great VonKids locations, your children will learn everything they need to become smart, confident, and helpful members of society. You'll notice the amazing benefits of a VonKids home daycare right away, but we'll highlight some of the best on this page in case you're still on the fence about joining VonKids. See below for some of the great benefits that come with the VonKids dayhome network.

Superb Curriculum
While your children attend any of the great Calgary area dayhomes in the VonKids network, they'll learn just like they would in school. Not only does this teach them things like math, reading, writing, and science, they also learn about logic, ethics, morals, confidence, and supporting one another. We use games and activities that have been specifically designed to help your children learn these traits without them even realising that they're learning in the first place. Every child that enters the door of a VonKids dayhome is given the attention and help they need to learn valuable lessons and skills they'll need throughout their lives. With VonKids, your children will learn and thrive while making lifelong memories and friendships.
Other VonKids Curriculum Features: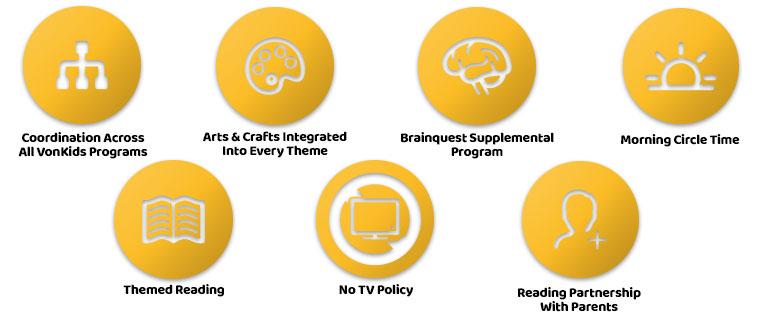 Partner with VonKids today and start getting the benefits of a world-class dayhome network. Contact VonKids and set up your free tour today!

Child Development
At VonKids, we know you expect the best when it comes to child care. You want an establishment that can not only make sure your children are safe, but learning, growing, and having fun all at the same time. That's why we offer high-quality child care services that stimulate your child's sense of wonder and intellect, all throughout the Calgary area. VonKids takes child development very seriously, because we know that children are the future and we know the effort that's needed to help them learn and succeed in a way that's conducive to their overall happiness. Our curriculum is specifically designed to get children excited about learning, and every VonKids location only helps by adding to this atmosphere. See how VonKids can help with high-quality child development: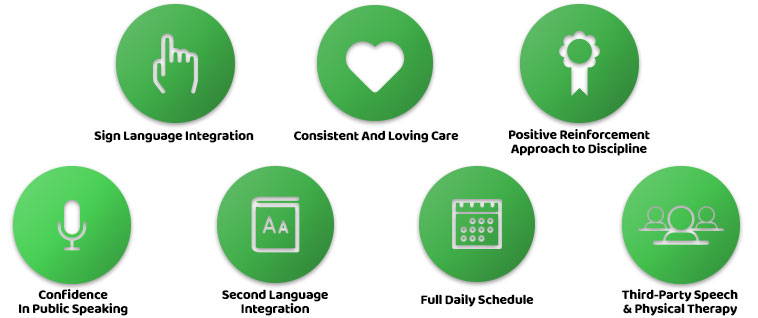 VonKids is ready to help your child learn and grow in a safe and fun environment. Learn more about the VonKids curriculum, see what makes our child development stand out from the rest, or contact VonKids today to get started with your world-class dayhome experience today!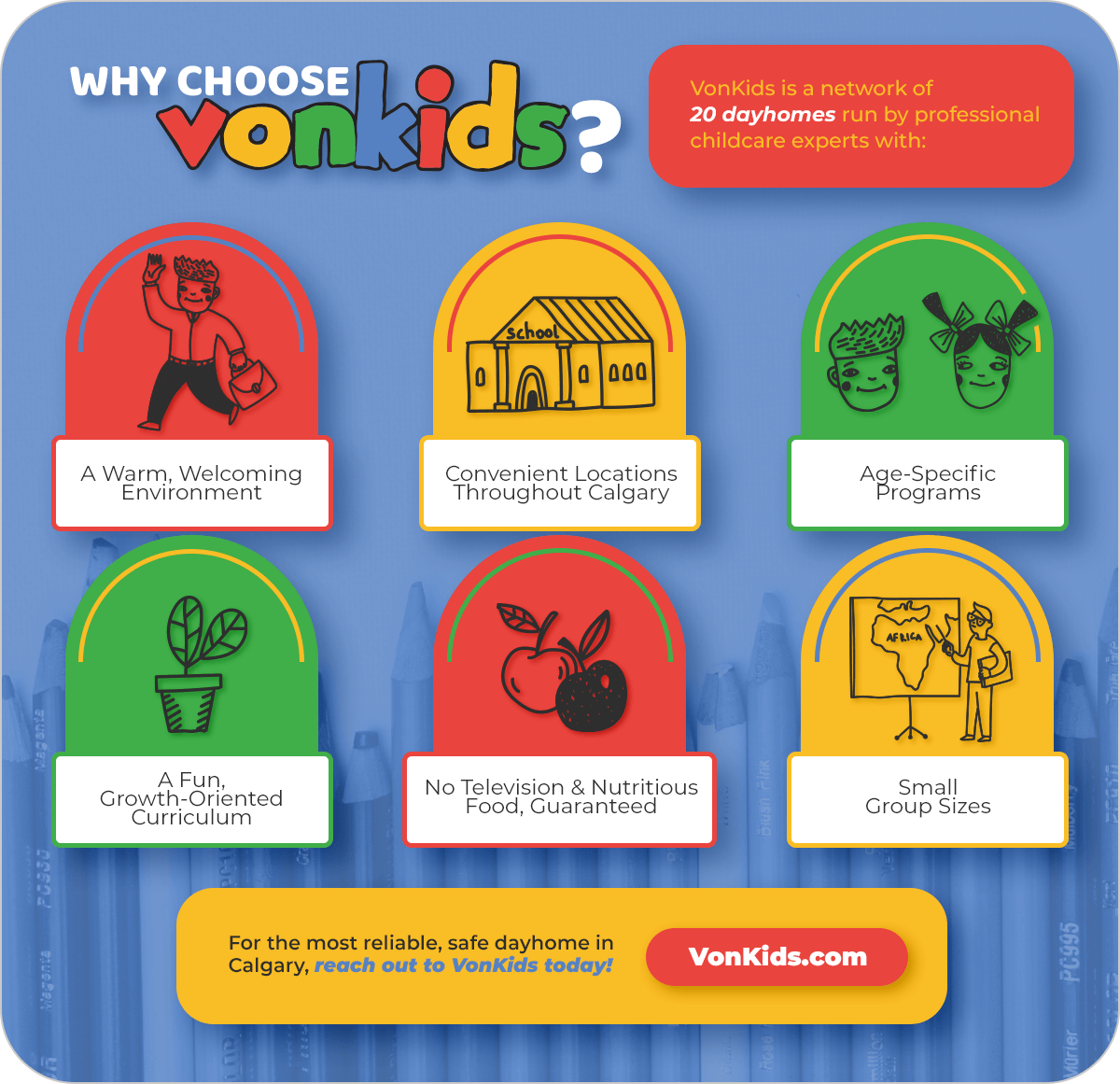 When it comes to quality child care, most people believe that big-name daycares are the way to go. While most do a good job of keeping your children entertained in a safe and fun way, most generic daycares don't do much to help your kids learn and grow in a way that will help them throughout their lives. That's where VonKids comes in to break the mold. Not only do we offer excellent child care in Calgary and the surrounding areas, but we help kids learn through carefully selected curriculums that are designed to further child development. Keep scrolling to learn all about VonKids dayhomes in Calgary, the benefits of a dayhome over a daycare, and even learn about what your kids will be doing at our home daycares through the VonKids curriculum.