Facility And Communication
At Vonkids, we're committed to making every facet of the child care process safe and convenient. We do this in many different ways, but one of the biggest ways is through our facilities and ability to communicate. Each and every one of our facilities is thoroughly inspected and vetted before it's allowed to become one of our certified dayhomes. Once a dayhome is established in the Vonkids child care community, it is subject to surprise quality checks that make sure everything is up to the high Vonkids standard for health, safety, and functionality. To maintain a high level of security and safety for your children, no Vonkids dayhome will ever be broadcast on our website or social media channels, and no Vonkids home daycare will have any kind of Vonkids marketing or branding visible on the outside of the home.
Aside from our world-class facilities, Vonkids excels in communication. Whether you're looking to get a full report of what your child did that day or you want to know what your child is learning at their dayhome, our educators will be able to tell you exactly what your child is doing while they're with us. The educators at Vonkids are also well versed at letting you know of any problems or complications that may arise when your child is with us. If anything unforeseen happens, our educators will let you know about any cancellations or changes in curriculum.
Keep scrolling to see what else Vonkids dayhome systems in Calgary can do for you and your family!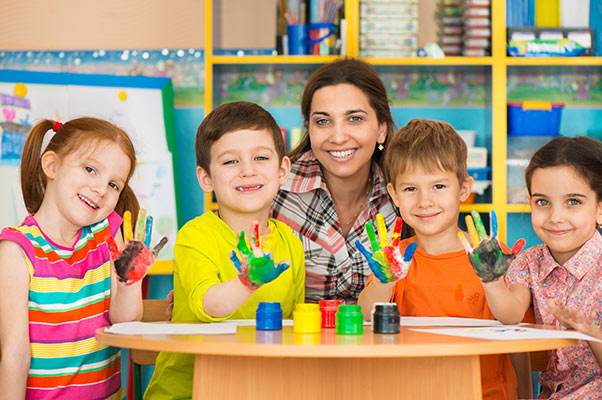 With our growing network of 20 dayhome facilities here in Calgary, we provide:
Multiple locations with two types of programs: infant/toddler and preschool.
Availability from 7:30 A.M. to 5:30 P.M. every weekday except Christmas week and stat holidays.
Drop-in flexibility
Constant in-home continuity, even with potential caregiver changes
Along with detailed monthly newsletters, we communicate with parents using our TADPOLES digital core communication tool. With an intuitive smartphone app, we can:
Offer photo and video tracking
Daily scheduling
Activity reporting
Attendance taking
Proper invoicing and centralized billing
EFT payment system only
Digital registration and information systems online
By combining years of child care experience and cutting-edge technology, we're able to deliver a process that's safe, accurate, and superior. Is VonKids the right choice for your child? Contact us online or by phone for more information or to begin registration!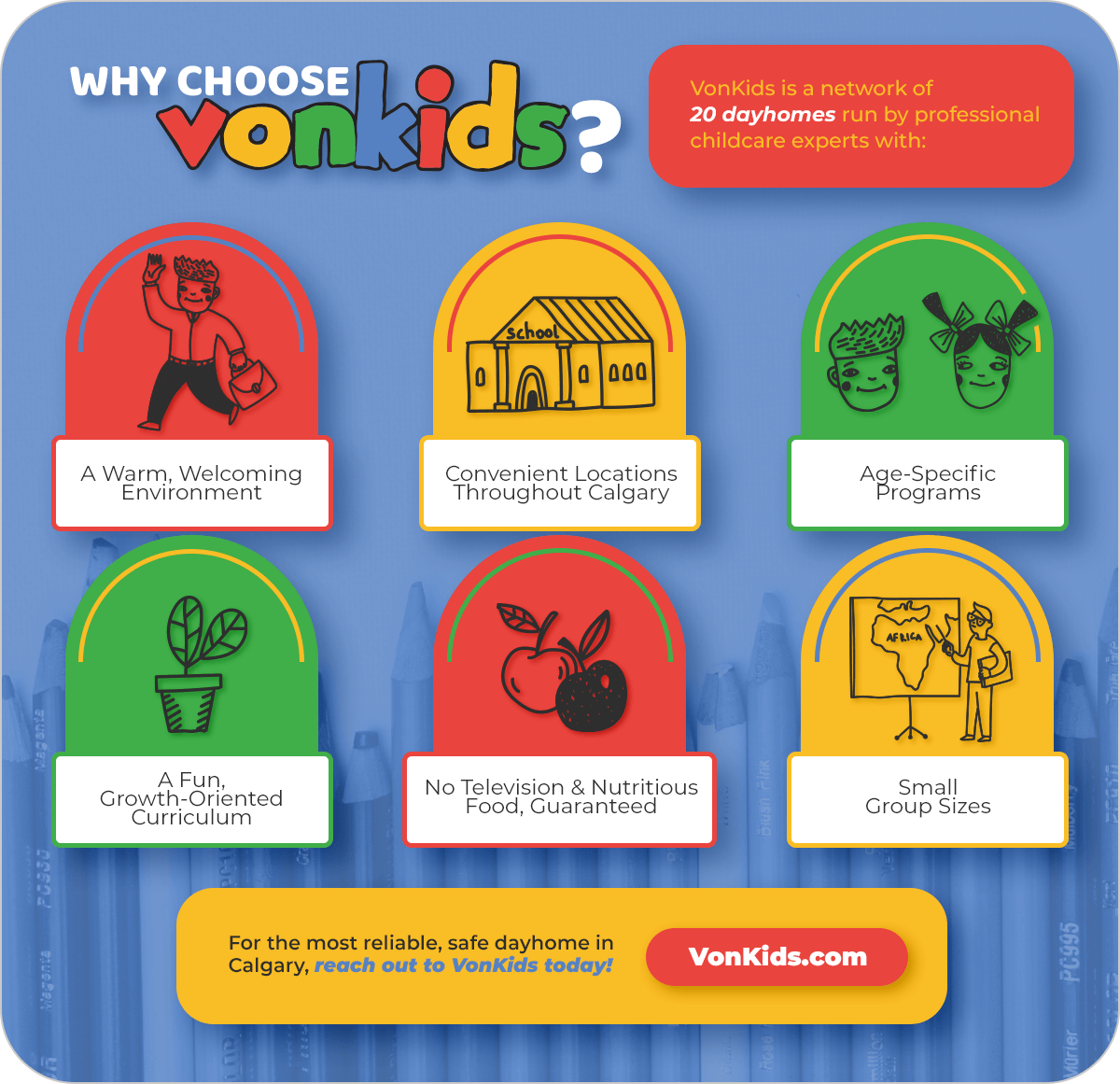 When it comes to quality child care, most people believe that big-name daycares are the way to go. While most do a good job of keeping your children entertained in a safe and fun way, most generic daycares don't do much to help your kids learn and grow in a way that will help them throughout their lives. That's where VonKids comes in to break the mold. Not only do we offer excellent child care in Calgary and the surrounding areas, but we help kids learn through carefully selected curriculums that are designed to further child development. Keep scrolling to learn all about VonKids dayhomes in Calgary, the benefits of a dayhome over a daycare, and even learn about what your kids will be doing at our home daycares through the VonKids curriculum.